GIVE ME FIVE:
WAYS TO MAKE MY STYLE MORE SUSTAINABLE
As part of our Material World campaign, we're delving deeper into the materiality of our clothes and unravelling the stories behind them. In the spirit of buying better, there are some simple steps we can all take to make more sustainable style choices. Read on for our top tips, in collaboration with Alex McIntosh, creative director at sustainability consultancy Create Sustain.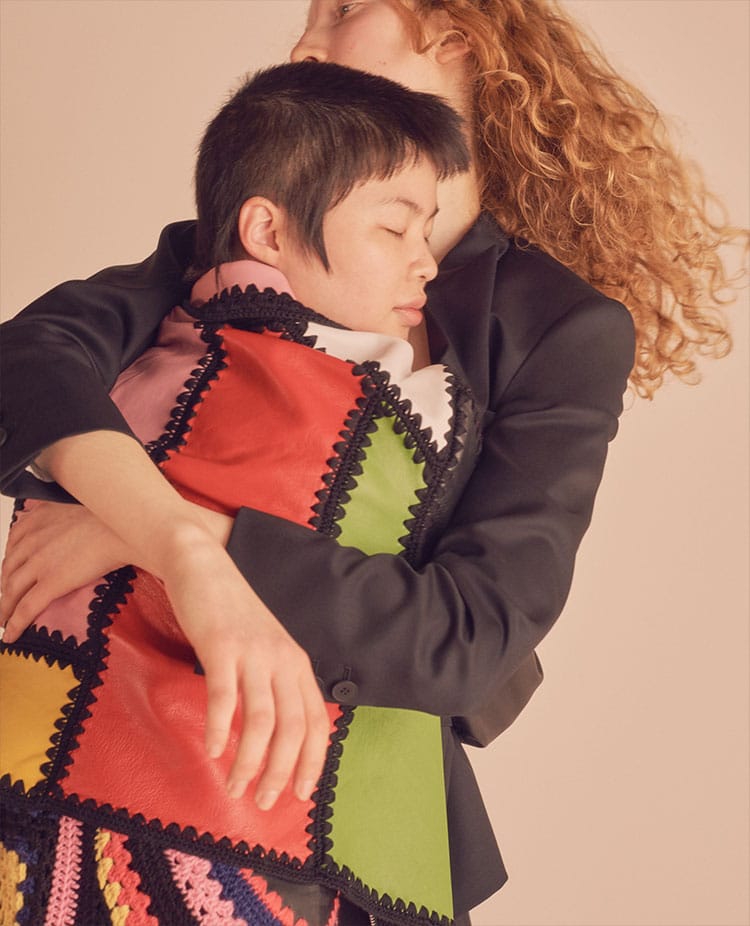 ///

Choose from a spectrum of style
What comes to mind when you hear the words 'sustainable fashion'? If it's hemp dresses and knit-your-own scarves, think again. Sustainable style covers all manner of aesthetics, from quirky individualism to monochrome minimalism and everything in between. Case in point: Katie Jones – winner of our 2015 Bright New Things bursary for her sustainable credentials – who teams playful aesthetics with serious ethics. The Central Saint Martins graduate uses materials sourced from designer surplus and factory seconds to create her hand-dyed, knitted and crocheted pieces that are big on colour and texture. At the other end of the spectrum, Stella McCartney, who operates a global business built on sustainability, is renowned for her streamlined silhouettes and elegant tailoring. "Sustainability is relevant to every person, no matter what their aesthetic sensibility," explains Alex McIntosh. "Individuality and self-expression can co-exist with a collective conscience."
///

Discover the story of your clothes
From the cotton farmer to the factory worker, every garment has a human story. But do we give these stories enough thought or ask ourselves who actually makes our clothes? "It starts with something as simple as looking at the label – where is it made and what is it made from?" asks Alex. "Does that garment really represent the skills and culture of the people of the place, or is it just a generic, mass-manufactured piece of clothing?"
As part of our Material World campaign, we're partnering with Community Clothing, an innovative social enterprise dedicated to making clothes, creating jobs and restoring pride in the UK textile industry. By making use of the spare capacity of British mills (ie: when they're not producing seasonal lines), Community Clothing is helping to nurture local communities and preserve traditional skills. Don't miss the pop-up collection online and in store at Selfridges Birmingham, Manchester Exchange Square and Manchester Trafford from mid February.
///

Invest in a sustainable pioneer
If you want to improve your sustainable style credentials, investing in labels that have set the bar in sustainable practices is a no brainer. "For many brands, sustainability can be a frightening or uncomfortable concept; for others, it is their raison d'être," says Alex.
In recent years, Nudie was the first denim brand to make a commitment to being 100 per cent organic, while Issey Miyake has championed innovative methods of recycling synthetic clothing into new yarn. But perhaps the ultimate organic pioneer is Katharine Hamnett. "Nearly 30 years ago, she found out about a problem – specifically the catastrophic effects of pesticide poisoning in the cotton farming industry – and she used her platform to make a difference," says Alex. "We need more brands willing to use their platform in this way."
///

Recycling, the luxury way
We all know about recycling our paper and plastics but what about leather? Or, more curiously, parachutes? "By being resourceful about the materials they use, designers can create something truly unique," says Alex. "Something that's obsolete in one space can still be completely useful in another, so it's all about cross-fertilising between industries to give existing materials a new lease of life."
Deadwood – new to Selfridges for our Material World campaign – recycles some of the 1.2 billion square metres of leather that is discarded every year to create its statement leather jackets. Meanwhile, Christopher Raeburn is renowned for taking old military surplus – particularly decommissioned parachutes – and turning it into beautiful, functional clothing. His latest collection of parachute jackets is available exclusively at Selfridges as part of our Material World campaign.
///

Take the wardrobe test
How much of what's in your wardrobe do you actually wear? Is there anything in there that you've never worn? Look at what you own and the new things you buy – are you living it to the full? Having a physical clear out can help – not to make way for new things, but to realise which items you really care about and why. Next time you're tempted to indulge in a fashion fling, think about what you value in your wardrobe. "Try to make everything you buy something that you will love and cherish; something that will become part of your life and harbour happy memories," says Alex.